Donna Sammons- Volunteer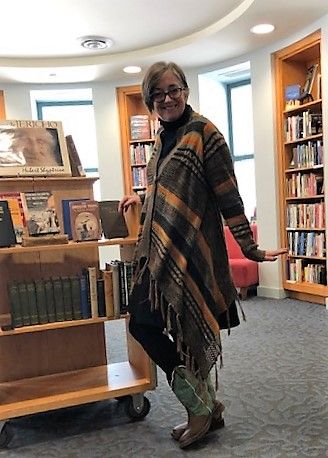 How did you first become involved with Denver Public Library Friends Foundation (DPLFF)?
A good friend volunteered at the Summer Used Book Sale and made it sound like a lot of fun. So, I signed up to volunteer at the next sale and I have been volunteering ever since, about 10 to 12 years.  
What do you do when volunteering?
During the Used Book Sales, I work as a cashier ringing up the customers' sales.
When I'm in the Red Chair Bookshop, I assist the customers, price and shelf books and make sure the shop runs smoothly. Volunteering at the bookshop is one of the most satisfying things I do. Seeing the new books is one of the highlights of my week. I also look forward to meeting and talking to the wonderful people who come into the bookshop.  
What do you wish other people knew about DPLFF? 
DPLFF offers several different types of volunteer opportunities for someone interested in volunteering and volunteers get to see all the fascinating books, DVDs and CDs that come through the doors. Plus, they get a discount too.
What would we be surprised to learn about you?
Fun Fact 1: I met one of my best friends working at a used book sale. She and I now work the Red Chair Bookshop together each Thursday. It's one of the most rewarding experiences of my life.  
Fun Fact 2: I joined the Peace Corps when I was 50! I served in Armenia. When I received the invitation to serve, I didn't even know where the country was located or anything about it! It was a life-changing experience.
If you weren't volunteering for us what would you do instead?
I am not sure what I'd be doing instead, but it would need to be special because my time at the library is so satisfying! Maybe I would join the Peace Corps again!  
What have you been reading?
I recently read Winter in Taos by Mabel Dodge Luhan. Fascinating reading about daily life in Taos.  The author focuses on little details, not so much the people but on the orchard, the garden, riding horses into the nearby mountains, the warmth of the fireplace...  It made me want to be in Taos!
I also just finished My Antonia by Willa Cather.  A beautifully written story of life on the Nebraska plains during the time of sod houses, emigrants and tough farming life.  It also highlighted the joys discovered amongst the hardships of life.