Donate used and rare books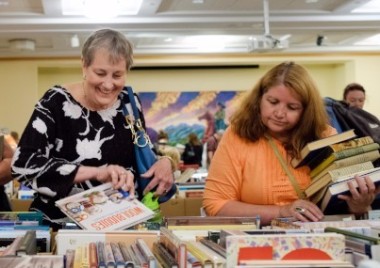 What materials does the Denver Public Library accept as donations?
We accept rare and used books, textbooks, complete World Book encyclopedia sets, music CDs, DVDs, BluRay, LPs, records, and computer games on CD, CD-Rom and DVD. 
Are there any materials the Library does not accept as donations?
We do not accept cassette tapes, videotapes, magazines (including National Geographic), newspapers, Reader's Digest condensed books, Time-Life books, incomplete encyclopedia sets, law books, tax codes, broken or damaged items, items that are missing parts, non-book or media items (e.g. toys, calendars, cards, etc.), and personally recorded audio or video items.
How much can be donated at one time?
Because of space limitations, we cannot accept more than two boxes at any branch library.
If you have more than two boxes, please bring them to the Central Library on Tuesday, Wednesday or Thursday between 10 a.m. and 3:30 p.m.  Call 720-865-1723 or email Andrea Hamilton at ahamilton@denverlibrary.org first to confirm that we are available to receive them.
Note:  books must be in boxes weighing 25 pounds or less.
What happens to materials donated to the Denver Public Library?
Staff members evaluate materials to see if the materials can be added to the collection. Materials not added to the collection may be sold at the Used Book Sales, the Red Chair Bookshop, or online. The Library recycles any unacceptable materials.
Where can I donate materials?
We accept donations up to two boxes at any library location during open hours. Please deliver your items to the desk; do not put them in the book return drop.
Will I receive a receipt for my donations?
Donors receive an "Acceptance of Materials" form. We are unable to appraise donated materials.
Can you pick up my books?
We do not have the resources to pick up your books.
Who do I contact with questions?
Call Andrea Hamilton, Manager of Philanthropy - Used Book Sales Program at 720-865-1723.