One day of giving. A BIG impact for the library.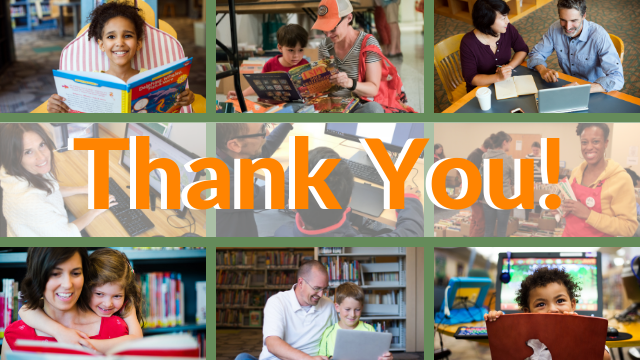 Nearly $50,000 raised for the library in 24 hours
We are inspired by the dedication and generosity of Friends like you who make a difference in the lives of all 4 million library customers and choose to support the Denver Public Library.
The Friends Foundation is proud to have raised $49,119 from 321 donors to help support our mission of enhancing library programs and services on Colorado Gives Day.
We hope you know how grateful we are.
Thank you...for your generosity.
Thank you...for believing that libraries matter.
Thank you...for everything you do every day - our hearts are full!
What an outstanding day it was for our 26 branch libraries because of each one of you.
We are proud to support the programs and services of the Denver Public Library and couldn't do it without you.
Thank you! 
---
Congratulations: The following individuals were randomly selected as our winners for the Colorado Gives Day drawing. If your name is listed below, we will be mailing your prize to the address on file for you:
Six-months valet parking at Cherry Creek Shopping Center: Dann Milne
$50 Elway's Gift Card: Bob Nelson
$25 Cheesecake Factory Gift Card: Jason Shugart
$25 Marco's Pizzeria Gift Card: Sharon Schwab
Annie's Café: Julie Lund
Big Bill's NY Pizza: Ann Cope
Denver Firefighters Museum: DeAnn Acosta
There's still time to make a year-end gift!
Colorado Gives Day may be over, but there's still time to join 

in the

spirit of giving this holiday season. Every day is a good day to make a difference. Click here to make your gift and help the library now. Thank you!