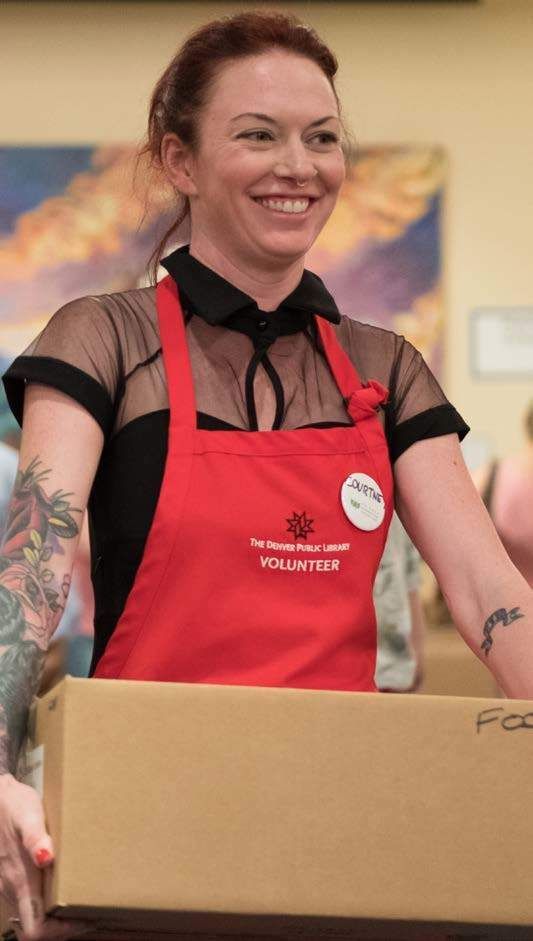 Book donations make an impact at Denver Public Library. When you free up shelf space by donating books to the library, the action sets a process in motion that helps our community while offering new life for your used books. Last year, approximately 393,000 books were donated to the library! 
With the help of Friends Foundation volunteers, donated books are sorted to sell online, at book sales, in the Red Chair Bookshop, or to give to community partners. While Central Library is undergoing its first renovation in over 25 years, our semiannual Used Book Sales and the Red Chair Bookshop have temporarily suspended operations, however, book lovers can still support the Friends Foundation by browsing the 9,000+ items listed at our online store and by following us on Facebook to learn about pop-up sales at DPL branches. 
All sale proceeds support the Library Fund. In 2020, our Used Book Operations raised nearly $200,000 in sales for the Library Fund and directed 12,250 books to community partners that gave them away to promote literacy. But the Foundation can't do any of this without your used book donations!
The next time you weed your book collection, please consider extending their shelf life by donating them to the library. To view our book donation policy or how to donate your books, visit our website or reach out to Andrea Hamilton (ahamilton@denverlibrary.org or 720-865-1723.)