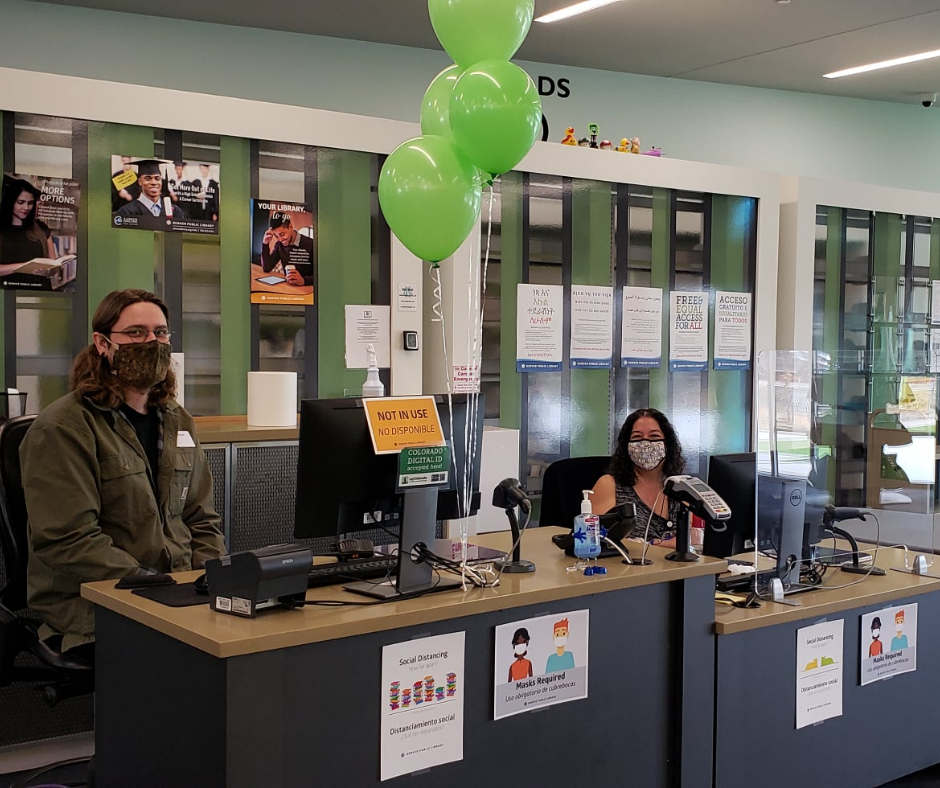 We're excited to report that nine Denver Public Library (DPL) branches opened for public use beginning Tuesday, March 9, as part of DPL's phased approach to reopening safely. Locations will open with limited hours to allow for cleaning and with limited capacity to allow for physical distancing. The following locations will be open to the public: Bear Valley Branch Library, Ross-Cherry Creek Branch Library, Rodolfo "Corky" Gonzales Branch Library, Green Valley Ranch Branch Library, Hampden Branch Library, Sam Gary Branch Library, Ross-University Hills Branch Library, Valdez-Perry Branch Library, and Westwood Branch Library.
Customers visiting these branches will be able to access the library's collections, check out materials, use computers and more. Curbside service will continue at these locations during normal curbside hours, which can be found at denverlibrary.org/curbside-holds. 
Meeting rooms, study rooms and ideaLABs, however, remain closed. In-person programming and events are also suspended until further notice.
The library expects to open additional locations soon. In the meantime, exterior-only services, including curbside holds and pickups, and a variety of virtual programs and services are available to customers at many locations.
In other branch news, we're excited to report that the Byers and Smiley branch renovations are complete! While they are not yet open for public use, DPL looks forward to unveiling these new-and-improved locations as soon as possible.
The library asks that customers refrain from visiting if they are not feeling well. Customers are also asked to practice physical distancing by remaining six feet apart from others at all times and customers over the age of three should wear a face covering during their visits. For more details about these precautions and other details about DPL's phased reopening plan, please CLICK HERE.
Meanwhile, at the Central Library…
If you've been downtown recently, you might have noticed an abundance of fencing around the Central Library. Currently underway there is an exciting renovation that will transform the heart of the DPL system. 
One of the first components of the project was a surface-level renovation of Acoma Plaza, which is nearly complete. This is now a very inviting area, which provides pleasing access to Civic Center Park, the Art Museum and the library. 
Work on new restrooms has also begun. This is one of the most utilized parts of the library beyond checkout and computers. The project's architect, StudioTrope, has designed the restrooms to meet today's and tomorrow's needs. This Denver-based firm utilized design students at CU Denver to do worldwide research and have come up with a design that is safe, secure, private and hygienic – priorities we heard from our community outreach efforts. 
Work on new elevators is also scheduled to begin this month. The new elevators have been designed to meet a variety of parameters, including health, efficiency, safety, durability and aesthetics. Once completed, the library will be equipped to move both people and materials in a much more reliable, efficient and enjoyable manner.
Also on the horizon is a renovation of the Central Library's beloved Children's Library, along with the creation of the Large Program Space – a new programming venue that will serve as a great resource not just for trusted DPL programs, but also for local businesses, nonprofits and other organizations.
This renovation is being made possible by a Friends Foundation-led comprehensive campaign called A Story Still to Tell. If enough funding is secured, the library will be able to move forward with additional updates to highly utilized spaces. To learn more about the campaign and get involved, please reach out to friends@denverlibrary.org.