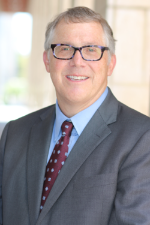 "Only through our connectedness to others can we really know and enhance the self. And only through working on the self can we begin to enhance our connectedness to others."
– Harriet Goldhor Lerner
Dear Friends,
Are you ready for the next month? How about the next year? 
While COVID-19 is not going away completely, its effect on our lives is becoming less and less. Evidence of this is that the library has reopened several branches, and if things continue to go well on the COVID-19 front, more will be opening to the public soon. As you make your plans for the next month and year, or even tomorrow, please include visiting your favorite branch, or even several branches. The staff there will be very excited to see you.
As highlighted elsewhere in this newsletter, the theme of National Library Week, April 4-10, is "Welcome to Your Library." In the spirit of connectedness, I encourage you to explore the many ways that Denver Public Library (DPL) lifts up our community, keeps us connected and provides ways to work "on the self." Here are some examples:
A book home delivery service for older adults.
A technology collection that now includes 300 Chromebook plus hotspot packages available for check out. Another 33 are circulated specifically to immigrants and refugees.
Outdoor computing sessions. The Central library (Central) hosts an average of 27 per day.
Curbside pickup. At Central, nearly 8,000 holds were picked up curbside in the first six weeks of 2021.
Reference Services averaged 1,620 chat sessions per month at the end of 2020.
Student Services made 15 virtual classroom visits to provide instruction to 998 middle and high school students and educators.
In 2020, 40 students completed their high school diploma through DPL's Career Online High School program.
As you can see, although in-building visits have not been possible, Denver's world-class library continues to pivot and innovate to meet the emerging needs of all customers. At the Friends Foundation, we are doubling-down on our mission to support the library's vision of a community where everyone thrives.  If you are a donor to us, thank you! You are helping this vision become a reality. 
When the economy goes down, library usage goes up. If you are able to make a gift now to the Library Fund, know that your donation supports the library's greatest needs. 
I'm excited that the library is reopening branches. I also am excited that I just got my first, of two, vaccine shots.  These two things are helping me feel more than ready for the next month and year. I hope you too have been or will be vaccinated soon. I wish you health and a great visit to your nearest branch library in the very near future!
Best wishes,
Jeff