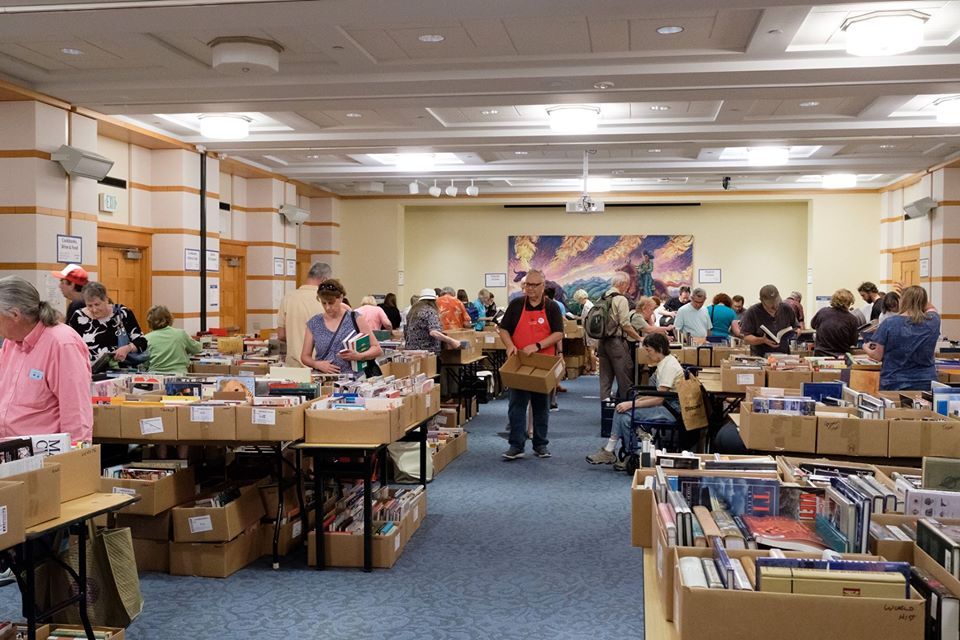 When the Friends Foundation started book sales several decades ago, the sales were often outside—in parking lots or on the North lawn of Central Library. They've been held in tents and in cold basements—during heat waves and rainstorms. No matter the weather or venue though, hundreds of dedicated volunteers return to work the sale each year. Getting great books into the hands of community members at affordable prices is an honorable goal.
Book sale volunteers are a unique community of people. They work because they love the library, but also because they are connected to each other. Some volunteers travel from other cities each day of the sale to haul books and help customers. Some take off a whole week from work to be right-hand helpers. There is even one couple who fell in love while volunteering at a sale so they find volunteering each year romantic! Thank you to everyone who has helped us over the years. Thank you for your heavy lifting, your good cheer and gracious spirits. We have raised millions of dollars for the library, and we did it with your help.
The Friends' first Spring Used Book Sale in March was a success. On its heels, the Foundation was excitedly planning two more book sales scheduled to occur before 2021 renovations start at Central Library. COVID-19 has interrupted these plans. Due to health and safety concerns the Central Library remains closed, and so we must cancel this year's Summer Used Book Sale. This is sad news for all involved. The Fall Used Book Sale is still scheduled. Plans for this event will be communicated when more is known about social distancing requirements in Denver for the fall. 
Although the Red Chair Bookshop located at Central Library remains closed, plans are underway to take it online. Stay tuned for the unveiling of the Red Chair Bookshop online store. The online store will offer the same great prices and eclectic items, plus Denver Public Library branded apparel and other gifts. 
Book donations will soon be accepted again with systems that address health and safety concerns for both staff and customers. In the meantime, shop the apparel store online where forty percent of each purchase helps the Friends Foundation to support the library.