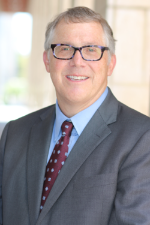 Dear Friends –
Nothing in life is to be feared, it is only to be understood.
Now is the time to understand more
so that we may fear less.
- Marie Curie
Marie Curie is the first person, male or female, to win two Nobel prizes in two different fields – chemistry and physics. I am attempting to apply her advice today as we deal with the COVID-19 pandemic and I encourage you to do the same.
The Denver Public Library (DPL) and the Friends Foundation moved to remote operations beginning on March 16. The library is continuing to serve the community even though the buildings are all closed and the Foundation is continuing to serve the library.
The library has developed a virtual library where one can access books, entertainment and services from home. We are also encouraging library lovers to subscribe to the DPL YouTube channel and to e-newsletters. More information about all of this is available at www.denverlibrary.org.
The message we want everyone to know is that the library is still here for you. If you are so inclined please promote the message #stillhere through Facebook, Twitter and/or Instagram. If you'd like to show your love for the library use #IHeartDPL. It is a great message to promote as well. 
Here are some interesting statistics about library usage since the pandemic began: 
Kanopy usage increased 55% over the average pre-closure week
Volume page views increased a whopping 361%
"Ask us" engagements increased 40%
Phone-a-story calls increased 94%
Online registrations increased 60%
YouTube programming views increased 34%
Overdrive checkouts increased 12%
Live Storytimes are now on YouTube and got nearly 4,000 views in the first two days.
Clearly, the library is still here! If you have used some of these services, thank you. If you have not, please give them a try.
The work of the foundation continues as well. If you are a member of the Foundation, thank you. We know these are trying times, but please don't forget to renew or upgrade your membership when that times comes. If you are not a member, now is a great time to join. The library has been asked to cut its budget due to the loss of tax revenue to the City. A gift now will enable Denver Public Library to respond to the community's most pressing needs. When our buildings reopen and economic recovery is underway, our libraries will offer classes and resources to those who have lost their employment or business. Again, if you are able to make a donation, please go to: www.dplfriends.org.
On other fronts, the renovation of Central Library and associated fundraising is continuing on schedule and we are still planning for the Booklover's Ball on October 24. Information on all events is described further on our website.
We thank you for your gifts of time and money. We hope you are safe and well. We hope you can apply Marie Curie's advice and use this time to learn. We look forward to the time when we can see you at the library!
Jeff Riley
Executive Director