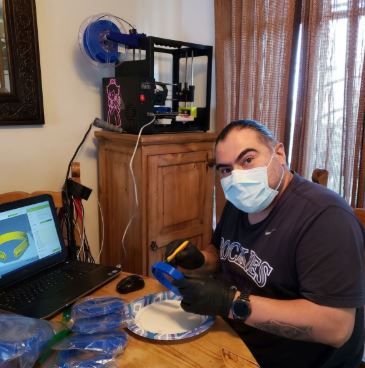 During these unusual times, libraries have taken unusual measures to push the boundaries of what libraries can be. The Friends Foundation is proud to support Denver Public Library's (DPL) continued efforts to creatively meet the needs of our community through actions as novel as this pandemic. 
Although DPL's doors may be closed, work continues diligently behind the scenes to make a tremendous impact on our community. Recently, DPL's Mobile Services and the Friends Foundation teamed up to donate and pack up materials. Our combined efforts resulted in the delivery of over 4,000 books and games to area shelters and "grab and go" sites for kids picking up lunches through Denver Public Schools.
Additionally, DPL staff members have joined the "citizen supply chain," contributing to the production of personal protective equipment (PPE) for healthcare workers. Through a collaboration with a statewide group called Make4COVID, staff utilize the library's 3D printers while working remotely to produce headbands and mask buckles for face shields. The printers are from the library's ideaLABS and are printing in DPL staff garages, kitchens and dining rooms now! The headbands and mask buckles made by the library's team are assembled into a face shield using an elastic band and clear shield produced by other members of the collaborative group. To date, the library's team has produced 257 headbands and mask buckles. 
Sewing machines from the ideaLABS are also in use creating fabric masks. From their homes, DPL staff members are using the machines to respond to a request from Denver Rescue Mission to provide fabric masks for their guests. Another eight ideaLAB sewing machines have been loaned to the Colorado Sewing Coalition who is paying folks who have lost their jobs to sew masks in a socially distanced setting. 
Looking ahead, DPL will need our collective support more than ever to keep people safe, productive, healthy, informed and connected. After an economic crisis, libraries are the helpers. When the immediate situation eases and libraries reopen, customers will need the library to take classes, build their resumes, connect to social services and access help starting businesses. Many things are changing right now, but one thing has not: our steadfast commitment to philanthropically supporting the library that the community needs and loves.