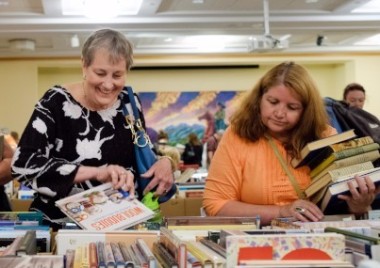 2020 Friends Foundation Used Book Sales
March 4 - March 7, 2020   Spring Used Book Sale (NEW for 2020!)

July 15 - July 18   Summer Used Book Sale

November 18 - November 21   Winter Used Book Sale
Preview Sale for Friends
The next Preview Sale for Friends of Knowledge and up (membership levels at $50 and up) will happen in July 2020. You will automatically receive 10% off your purchase at the checkout. 
Click here to become a Friend of Knowledge and get VIP access to the 2020 book sale preview events.
Volunteering
Sign up here. We also host individuals and groups from schools, organizations and companies throughout the Denver Metro Area during the book sale. Call us at 720-865-1705 to book a large group.
If you sign up for closing help at our book sales, you get a free box of books!
All volunteers, teachers and DPL staff receive a 25% discount during the sale (not including the Red Chair Bookshop.)
Sponsor the Sale
Imagine a book sale so big it fills the Denver Central Library Conference Center and beyond! Our used book sales are four-day events that attract nearly 6,000 – 8,000 visitors from around the Denver Metro Area and other western states.
Want to learn more about sponsorship? Call 720-865-2051 for more information.
---
Thank you to our event sponsors: