Used Book Sale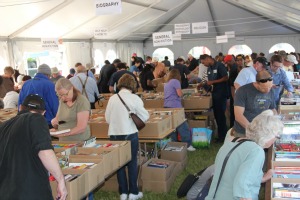 Save the Date for our 2016 Sale!
Wednesday, June 22, 10 am - 4 pm
Thursday, June 23, 10 am - 4 pm
Friday, June 24, 10 am - 4 pm
Saturday, June 25, 10 am - 4 pm
Denver Central Library
10 West 14th Avenue Parkway
Please note:  because of unstable weather conditions and the increasing cost of tents, this year's summer sale will be held indoors in the lower level of the Library.  
New items added daily!
Hardbacks: $3
Trade paperbacks: $2
DVDs: $2
CDs: $1
Cash, checks, Visa, Mastercard, Discover and American Express accepted.
Questions? Email friends@denverlibrary.org or call 720-865-1705
Members Only Presale Night:  Wednesday, June 21, 6 - 8 pm
Open to Friends Foundation members and donors only; become a member today!  Since the sale will be indoors, no food or drink will be available at this event.  
Thanks to our partners for making this event possible:
Sponsor: Denver Community Credit Union
Food/Beverage Donors: Coca-Cola, Jimmy Johns, Noodles and Co, Snarf's, Moe's Bagels, Coffee Mug, Tony P's
Volunteer Groups: P2Energy Solutions, Junior League of Denver, Oppenheimer Funds, Single Volunteers of Greater Denver