Used Book Sale
Save the Date for the Gigantic Used Book Sale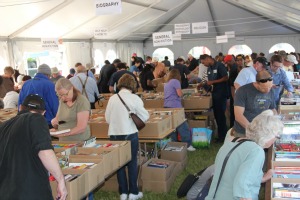 June 11 - 14, 2015
Over 80,000 books, CDs, DVDs and audio books at bargain prices
 
Denver Central Library
10 West 14th Avenue Parkway
North Lawn
Thursday, June 11: 10 am – 7:30 pm
Friday, June 12: 10 am – 4 pm
Saturday, June 13: 10 am – 4 pm
Sunday, June 14: 10 am – 1 pm
Special Events
Presale Party:  Wednesday, June 10, 6 - 8 pm.  Open to Friends Foundation members and donors; includes refreshments, music, and the first pick at our books.  Become a member here!
Great Book Giveaway:  Sunday, June 14, 2 - 3 pm.  Books free to teachers and non-profit representatives with ID.
Throughout the sale, teachers with ID receive a 25% discount.
Cash, checks and credit cards (MasterCard, Visa and Discover) accepted.
Prices:
Hardbacks:  $3
Trade paperbacks:  $2
Mass market paperbacks: 50 cents
DVDs:  $2
CDs:  $1
Audiobooks:  $3
Better Books:  priced as marked
We need volunteers!  Visit our volunteer page for more information.
Thanks to our partners: