The Denver Public Library Friends Foundation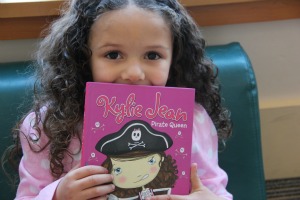 The Denver Public Library Friends Foundation enriches our community by building support and raising money to enhance the Library's programs and services.
When you join us, you'll:
Encourage over 40,000 kids to keep their love for reading alive thanks to our hugely successful Summer of Reading program

Assist thousands of parents and their children with English language, citizenship and literacy programs

Help many grateful adults connect to the world with expert technology assistance

Put thousands of new books, CDs and DVDs on the shelves every year
Join Our Mailing List
---
Now open
at the Central Library!
Monday - Friday, 10 am - 4 pm
October is Breast Cancer Awareness Month
Posted on 10/20/2014
The cause of breast cancer has gained a lot of exposure and awareness in recent years, especially thanks to the National Football League. You may have noticed the touches of pink on NFL players' uniforms this month, as October is Breast Cancer Awareness Month. Breast cancer is the most common cancer among women. According to Komen.org, "In 2012, breast cancer accounted for nearly 25% of all cancers." Here are a few tips from Komen.org to help you diagnose breast cancer or help someone going through the experience:
What is Breast Cancer?
Breast cancer is the result of malfunctioning cells and there is an increase in cell growth and not cell death. The balance between cell growth and cell death is crucial to organ systems. The result of this growth is a malignant tumor, meaning cancer.
Mammography Screening
Regular mammography screening is important in early detection. If there is a family history of breast cancer, screenings are recommended to start as early as in your twenties. Not all breast cancers are diagnosed through mammography, so self-evaluation is crucial. Visit Komen.org for the most common symptoms.
Social Support
If someone you love is diagnosed with breast cancer, it is important to provide social support through their wide range of emotions. Your loved one will experience shock, fear, sadness and anger. Time may ease these emotions, but your support will be crucial. Social support reduces anxiety, depression, fatigue and many other emotional symptoms of cancer.